A global brand, locally backed
Carry less cash and leave the checks at home. With a Visa Debit Card, you can pay easily at most retailers and vendors. Your purchases are protected with Visa's Zero Liability Policy and you can get cash back at point of sale transactions when you use your PIN.
FAQs
Tap your credit or debit card on the terminal reader when it's time to pay.  You do not need to swipe or insert the card. Just hover your card a few inches above the contactless symbol on the device.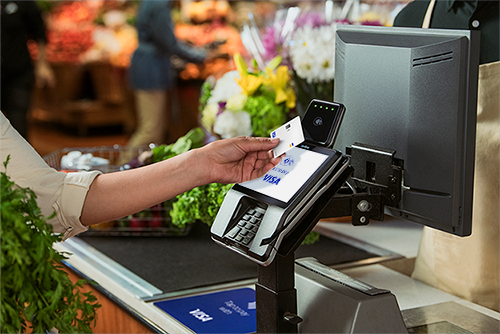 Call us at 800.527.3328 and press 2 for ATM and debit card. Then press 1 for lost/stolen.
If a suspicious transaction occurs on your card, you will be notified right away.
How will you contact me?
We'll send you a SMS text first (if you have a mobile phone number on file), followed by phone calls to the numbers we have on file for you (including mobile, home and work). If you have not responded, we will then email you.
Emails and texts are sent 24 hours a day, 7 days a week. Phone calls will take place between the hours of 8 am and 9 pm, in your specific time zone.
After hours, a text will be sent, followed by an email. A temporary block may be placed when necessary, and a detailed report fraud report sent to LBS Financial.
We encourage you to make sure your contact info is up to date! If you have any questions or want to update your information, call 800.527.3328.
Yes! No matter how you pay, Visa has you covered with zero liability. Visa's Zero Liability Policy is our guarantee that Visa cardholders won't be held responsible for unauthorized charges made with their account or account information.
How it works: Visa chip cardholders can shop worry-free at millions of locations
The cardholder reviews their monthly statement and immediately reports any unauthorized charges to their financial institution.
Once reported, Visa's Zero Liability Policy requires their financial institution to investigate and resolve things quickly.
To reset your Debit Card PIN, please call 866.762.0558 from your primary home phone on your account. For ATM Cards, bring your ATM Card with photo ID to any of our branches to re-PIN.
Once authorization has been received, a stop cannot be made. However an affidavit may be filled out if there are fraudulent charges. Contact us for more information.
Depending on your account balance, you may use your LBS Financial Debit Card to withdraw up to $500.00 within any 24-hour period from an ATM. Regular purchases are limited to a maximum of $2,000.00 within any 24-hour period. Premier Members have increased limits.
Both cards let you withdraw money from an ATM, but our Debit Cards are also accepted at any merchant where you see the Visa symbol.